Footless Stockings
These footless latex stockings will not restrict your feet enabling you to dance and play all night.
Although shown here in metallic blue and black latex, a range of colours are available from the drop down menu.
Match the tops to the rest of your outfit.
Model also wears Bilyana Thong in the photo.
---
Bilyana Thong
Bilyana thong with metal hoops front and rear.
Malina Thong
Plain thong, ideal if you like to wear a little some thing under your skirt.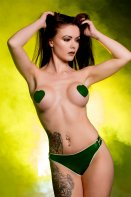 Malitsa Knickers
Malitsa knickers with decorative trim front and rear.