Kristiana Low Rise Shorts
These Kristiana Low rise latex Shorts will team up prefectly with any of our tops. They are cut to the same waist height as our Valentine Shorts and have the lowest waist height in our shorts range.
Pictured here being worn with the Yanitsa Top.
If you prefer a pattern on your shorts then take a look at our Valentine Shorts.
---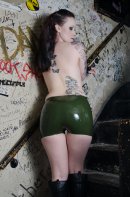 Valya Shorts
Latex shorts which are perfectly cut for a great fit.
Malina Thong
Plain thong, ideal if you like to wear a little some thing under your skirt.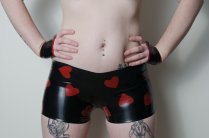 Valentine Shorts
Low rise Shorts with random little hearts.