beGLOSS Special Wash WETLOOK 500ml
---
beGLOSS Special Wash WETLOOK 500 ML Gentle cleaning agent for wetlook- & pu clothing
beGLOSS Special Wash WETLOOK 500ml
beGLOSS SPECIAL WASH WETLOOK Special Wash & Ultra Clean
EXPRESS cleaner for the care and intensive purification of Wetlook garments.
This special cleaner provides an hygienic treatment of Wetlook & PU garments.
beGLOSS SPECIAL WASH removes dirt, skin, fat and oil residues.
The treatment maintains and protects the garments thereby increasing the lifespan and durability.
Furthermore, beGLOSS SPECIAL WASH is the perfect pretreatment for repairs of Wetlook & PU garments.
Note: Express cleaning takes only 10 minutes!

The mixture must be thoroughly mixed before use. The cleaning and rinsing must be done in cold water. Allow garments to air dry.
---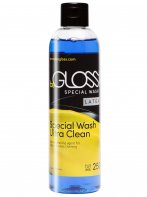 beGLOSS Special Wash LATEX 250ml
beGLOSS Special Wash LATEX 250 ML Gentle cleaning agent for rubber & latex garments.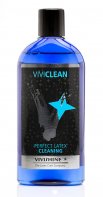 Viviclean 250ml
VIVICLEAN is the perfect wash lotion for latex clothing and toys with its intensive cleaning and being material-friendly. Due to its osmotic properties, moisture, dirt, odour or bacteria can settle into latex, and cleaning with a suitable agent is recommended.