beGLOSS PERFECT SHINE PREMIUM SPRAY 100ml
---
beGLOSS Perfect Shine Premium Spray 100 ml - Latex Polish - Ultimate high gloss shine - The lubricant for the polish & care of rubber & latex garments.
beGLOSS PERFECT SHINE PREMIUM SPRAY 100ml
beGLOSS Perfect Shine Premium Spray is a high gloss latex polish which is much more effective than regular latex polishes.
Our fantastic formula provides your latex clothing with a professional, outstanding and brilliant high-gloss look. The latex may have that highly sought after wet look but the surface is absolutely dry to the touch.
This is the perfect high gloss finishing touch for latex clothing, our latex care polish also keeps your latex velvety soft and supple as it exudes a luxurious latex feeling with every touch.
This Premium Latex Spray is made according to our special beGLOSS formula. Thanks to its specially formulated viscosity, it is much more effective and very easy to use.
The Perfect Shine Premium Spray cares for your latex as it is simply sprayed on.
The latex is polished to a mirror finish with our specially designed latex polishing cloth – The beGLOSS WIPE.

It only takes a very minimal amount of Perfect SHINE Premium Spray bring out a gorgeous high gloss shine which makes it considerably more economical.
We recommend pairing Perfect Shine Premium Spray with our beGLOSS Wipe latex polishing cloth to get a super glossy look immediately, which is dry to the touch and does not stick.
It's magic!

Perfect Shine Premium Spray also works great for chlorinated latex as its specially formulated mist will bring your latex to a perfect high gloss shine.
Thanks to the very handy ergonomic hand pump spray head with perfect dosing nozzle, beGLOSS Perfect Shine Spray is very easy to spray on and buff to a mirror finish.
Each beGLOSS bottle is hygienically sealed at the factory with a tamper-evident seal and is therefore protected against contamination and keeps each bottle leak free during transport.
Special Features
- beGLOSS Perfect Shine Premium Spray gives your latex a professional glossy look
- Excellent colour enhancing properties for brilliant latex
- Cares for and protects latex clothing making it velvety and supple
- Effective protection against wear and harmful influences
- No laborious dip required - simply spray on and buff to a brilliant shine
- Especially suitable for chlorinated latex
- Child safety lock with leakage protection- Can be sprayed in any direction, including upside-down
- Anti-static results and prevents sticking
- very economical – a little goes a long way
- Ideal in combination with the beGLOSS Wipe polishing cloth

- Bottle is hygienically factory sealed with tamper-evident foil to protect against germs
- Bottle sealed for leak-free transport
beGLOSS Perfect Shine Latex Polish - Latex Care Polish SPRAY, Protect and enhance your latex clothes
Professional Latex Care Spray - provides a high gloss look for latex clothing and is also suitable for chlorinated latex
Latex care which offers effective protection against every day wear and harmful substances
Every bottle comes factory sealed with a tamper-evident foil which makes beGLOSS hygienically sealed and protected against germs
beGLOSS - Made in Germany
---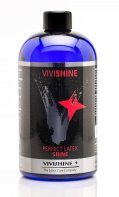 Vivishine XXL 500ml
Vivishine XXL Latex Polish 500ml Long lasting, visible deep shine and intensive care for all latex and rubber products. It perfects the latex feeling on the skin. Solvent-free and odorless.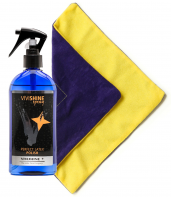 Vivishine Viviwipe and Spray Bundle
Vivishine Spray and Viviwipe.