Preslava Dress
The Preslava Latex dress, lovely dress with a short flare around the bottom.
Zip at the rear and 3 adjustable snap fasteners around the neck ensure a perfect fit.
Available in either a single colour or 2 colours.
With this dress the photos show red as being the main colour and the trim is in sand.
If you require the dress in a single colour please choose the trim colour the same as the main colour.
---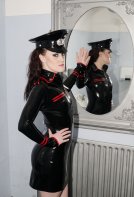 Military Dress
Military dress, perfectly cut to show who's boss.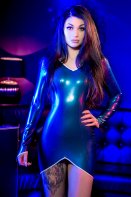 Galena Dress
Galena dress with a little longer rear. V shape cut outs front and back.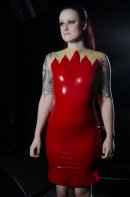 Roksana Flame Dress
Sleeveless Knee Length dress with flames all around the top, front and back.