Simona Shorts
Simona Latex Shorts feature trim in the shape of a V which starts at the waist and goes to the seam in the middle.
Matching Mens V shorts also available.
---
Siana Strap Shorts
Latex shorts with straps for a great fit. Wear the straps how you wish.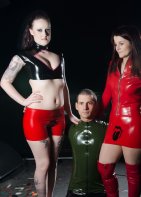 Gloria Shorts
Standard latex shorts with a great little motif on the front.